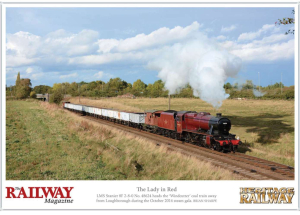 Hover to zoom.
"The Lady in Red" - A4 Poster Print
Mortons Media Group
£6.99
(Approx $8.81 or €8.18)
Including
free
UK delivery.
International delivery charges are calculated at checkout.
Share this with a family member or friend?
Click on one of the buttons below:
'The Lady in Red
- A4 Poster Print

LMS Stanier 8F 2-8-0 No. 48624 heads the 'Windcutter' coal train away from Loughborough during the October 2014 steam gala.
- Caption by Brian Sharpe

Get your copy of this fantastic image of The Lady in Red.

The print is produced in A4 size on quality print card.
Check out our fantastic shows...