Subscribe to Heritage Railway

Welcome!
From Robin Jones, Editor
Subscriber Benefits
Delivered to your door before it goes on sale
Massive savings on cover price
FREE postage
Never miss an issue
Digital is here!
As well as ordering print issues and subscriptions of your favourite railway read here on Classic Magazines, you can now purchase digital editions directly from us. Quick and easy to do, download Heritage Railway for your Smart Phone, tablet or computer today and it'll be available for you to read anytime, anywhere.

About the magazine
Heritage Railway is the only magazine in its field to concentrate on every aspect of Britain's wonderful network of preserved railways, whether the motive power be steam, diesel or electric.
Renowned for page after page of news, with hard-won exclusives every month, the magazine also boasts some of the finest atmospheric photography in the business, and well-researched historic features leave no stone unturned.
Regular sections cover main line news, modern day revival scheme, railwayana, tour listings, young volunteers, carriages and wagons, the changeover years (the transitional period from steam to more modern forms of traction), models and much, much more.

So don't miss out - get involved and take out your magazine subscription now!


Publication frequency
Heritage Railway magazine is four-weekly:
13 Issues = 1 Year
26 Issues = 2 years
Preview the magazine
Other things you may like... Bookazine - Battle for Bluebell
Books and Bookazines
more info
£6.99

Bookazine - Railways Still at War
more info
£6.99 Card Pack of 4 Heritage Railway A6 Size
Heritage Gifts
more info
£3.99
Bookazine - Sunny and South West
Books and Bookazines
more info
£6.99

Bookazine - King Coal
Books and Bookazines
more info
£6.99

Bookazine - USAF 70 Years of the World's Most Powerful Air Force
Books and Bookazines
more info
£6.99

Rail Express Modeller Yearbook by Simon Bendall (Bookazine)
Books and Bookazines
more info
£6.99

Bookazine - The Queen at 90 - A life in pictures
Books and Bookazines
more info
£6.99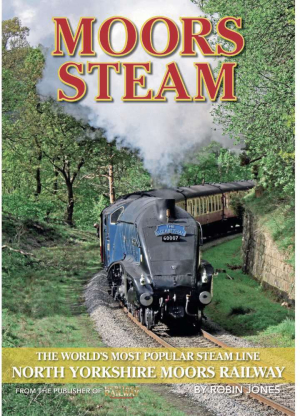 Moors Steam by Robin Jones (Bookazine)
Books and Bookazines
more info
£6.99

Bookazine - Steam on the Underground
Books and Bookazines
more info
£6.99

Bookazine - Great Western Steam Revival
Books and Bookazines
more info
£6.99 Calming Art - Catherine Gray - Print - Penguin - A3 Print
Posters and Prints
more info
£5.99