Subscribe to Scootering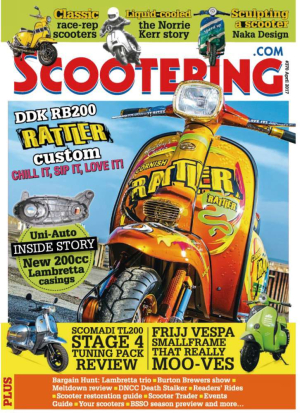 Welcome!
From Dan Clare, Editor
Subscriber Benefits
Delivered to your door before it goes on sale
Massive savings on cover price
FREE postage
Never miss an issue
Digital is here!
As well as ordering print issues and subscriptions of your favourite scootering read here on Classic Magazines, you can now purchase digital editions directly from us. Quick and easy to do, download Scootering for your Smart Phone, tablet or computer today and it'll be available for you to read anytime, anywhere.

About the magazine
Scootering is the world's number one scooter magazine. The best customised and restored scoots are showcased in glorious detail with owner interviews, tech specs and beautiful photographs that pick out every carefully crafted detail.
There are reports from rallies across the country, handy buyer's guides, product and music reviews, interviews with the movers and shakers of the music scene, readers' scoots, top technical tips and oodles of nostalgia for the places, faces and two-wheeled dream machines of days gone by.
This is your indispensible guide to everything that makes scootering a way of life.

So don't miss out - get involved and take out your magazine subscription now!


Preview the magazine
---
Visit the official Scootering magazine website
for news, stories, subscribers club and extra's we couldn't fit in the magazine!