Scootering - March 2017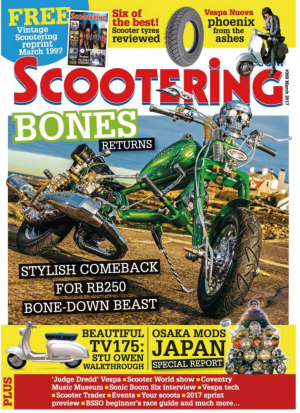 Hover to zoom.
Share this with a family member or friend?
Click on one of the buttons below:
03 Letter from the Editor
A warm welcome to March issue
of Scootering.

06 Kickstart
The front section with all the latest
news, views and product reviews!

14 Bones Returns!
The second reincarnation of this
well put together chop.

20 Scooter World – Newark
Show report from the event
organised by Classic Scooterist Magazine.

25 Letters
Feedback and full throttle
responses from the readers.

26 Dealer spotlight
Don't let appearances fool you –
inside the HQ of Glasgow Lambretta.

36 Scomadi – Mexican Low Rider
Too cool for school, this TL200 from
Nite Owl leads the way.

41 Innocenti factory
Going over for the Lambretta
70th celebrations? Our guide to what's
left to see.

45 Osaka Mods
It's a worldwide phenomenon;
see how it's done in Japan.

49 Tent review
No longer just a throwaway item
to be burned on site, this is your room
for the night.

51 Fetish Scooter
Unusual to say the least,
see for yourself…

54 Show us your scoots
The best of our readers' rides as
sent in by you.

57 Coventry Music Museum
Nik takes a tour to see what's
going down.

61 Being
An update to the latest film, just
before the premier launches.

66 Club Do's & Events
Your essential guide to the scene
– What, Where & When!
72 Sonic Boom Six
Nik interviews Laila Khan.
74 Scootering Words & Sounds
The best of words and music as reviewed
by Nik & Sarge.

76 Key to the door
A brilliant brace of beautiful
birthday Vespas.

82 TV175
Stu Owen gives us a peek at
a stunning example of the marque.

87 Vespa VMA1T
Italian stallion Christian Giarrizzo
visits one classy lady and her classy Vespa.

93 Tech Torque
Dan continues his epic Vespa
tech tuning saga.

97 Tech Torque
Stu Owen brings us part 5 of his
Lambretta restoration guide.

103 Tech Torque
Jordan compares the most
popular current scooter tyre choices.

107 Sprinting Review
Stu Owen takes a look at last
season's top contenders and gives us an
insight into what we can expect for 2017.

112 BSSO Beginner's Race Guide
Paul Green continues his series on getting
started in scooter racing.

115 Scooter Trader
Your sales and classifieds
section – including Specialist Services & At A Glance.

128 DNCC#40
Dave O brings us another
classic blast from the past, it's truly
Dredd man...

130 Reader's Ride
Stan takes a peek at a cracking
reader's ride.