Scootering - April 2019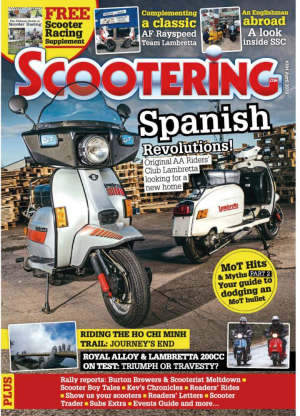 Hover to zoom.
Share this with a family member or friend?
Click on one of the buttons below:
CONTENTS
03 Welcome letter from the Editor
A warm welcome to the April edition of Scootering
06 Kickstart
The upfront section with all the latest news, views and product reviews
14 Feature Scooter: Team Lambretta
Mention AF Rayspeed and the legendary S Type is what we instantly associate with the company. But we should never forget their other timeless classic
21 Scooter Boy Tales
Another cracking Scooter Boy story from the annals of scootering history
22 Riding the Ho Chi Minh Trail Part 3: Journey's End
Last month we left our riders in Hoi An, running out of time to complete their ride to Hanoi. Are they about to throw in the towel?
28 Feature Scooter: Shipshape and Bristol Fashion
Four years back Chris Eldridge started in earnest on realising the twin scooter aspirations he'd harboured for as long as he can remember. See the beautiful results for yourself
35 Mailbox
Readers' letters, laughs, feedback and fury – get it off your chest, send us a communication to air your point of view
36 Subscriptions
Get your mag delivered to the door, earlier than newsstands, and save money…cool. Plus – gain access to all the benefits of the 'Scootering Extra' subs-club
38 Show us your scoots
The very best, funniest and most endearing of our readers' rides photographs, as sent in by you
42 Dealer Profile: SSC
Big Stan jets off to Saigon, to meet the lovely people behind the Saigon Scooter Centre
48 Royal Alloy 200cc Test Ride
Can an auto scooter ever be described as having character? We rode Royal Alloy's GT200 in an attempt to find out, and were pleasantly surprised
52 Lambretta V200 Test Ride
Relaunching the Lambretta scooter was one of the most controversial decisions in scootering for decades. We test rode the V200 to see whether the decision was justified
54 MoT Hits & Myths
The second part of our helpful guide, to try and ease the pain of MoT time
58 Kevin's Chronicles
Part 4 of our homage to scooter legend Kev Walsh. This time we take a look at number ones, nationals and millionaires
64 Feature Scooter: TV or not
TV, That Is the Question Sarge takes us through Kev Cocklin's journey to achieve his dream scooter, using the very desirable TV175 as his base model
73 Club Do's & Events
Your essential guide to the scene – What, where and when
76 Scootering Words & Sounds
The best of scootering words and music as reviewed by Nik & Sarge
81 VCB Club News
The official newsfeed from the VCB
82 Spanish Revolutions
Pike-nuts, grass skirts and a pristine Lambretta Lince. An unlikely combination but, as Stan discovered, they were all part of the 1980s rally culture – a stunning brace of Spanish Lambrettas
88 Tech Torque: Don't lose your head. Keeping Lambretta cowlings secure
The head and fan cowl are a fundamental part of the Lambretta engine cooling process. If they come loose then overheating will occur
92 Project Street Sleeper
Dan's new project, no fancy paintjobs, just a discreet pocket rocket. With V5 in hand, Dan now focuses on the tech specs of his Targa-Twin project
94 Event Report: Burton Brewers
It's a long-time favourite for many, and a great way to kick off the season. Stu Smith reports on the Burton Brewers event
100 Reader's Ride: Bonzo
As we all know, football fans are passionate about their team, and scooterists are passionate about their scooters. This machine combines those passions
106 Rally Report: Meltdown
Jamie is back from the Meltdown, and what a great time he had. There is no other rally like it; Jamie explains why
117 Scooter Trader
The sales and classifieds section
128 Dave's Nostalgic Custom Corner
This month's trip down memory lane from DNCC is the stunning… Hard to Handle