Scootering - May 2019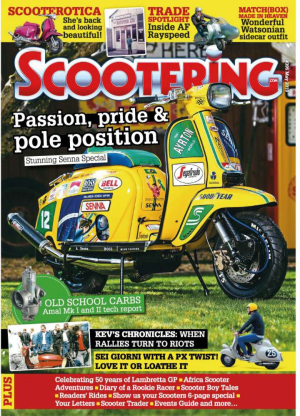 Hover to zoom.
Share this with a family member or friend?
Click on one of the buttons below:
CONTENTS
03 Welcome letter from the Editor
A warm welcome to the May edition of Scootering
06 Kickstart
The upfront section with all the latest news, views and product reviews
14 Passion, Pride and Pole Position
This year sees the 25th anniversary since Ayrton Senna's death and with the support
of a highly skilled and specialised team, Darryl Braga has produced an emotive and thought-provoking Ayrton Senna tribute scooter
22 Celebrating 50 years of the Lambretta Grand Prix
Half a century has now passed since Innocenti released its final piece of scooter design, one which has endured the test of time, achieving legendary status
28 Scooterotica
Mixed emotions surround the reincarnation of this legendary beast, from many different quarters. But whether you love it or loathe it, the fact is… the bitch is back!
34 Scooter Boy Tales
Another cracking Scooter Boy story from the annals of Scootering history
37 Mailbox
Readers' letters, laughs, feedback and fury – get it off your chest, man!
38 Subscriptions
Get your mag delivered to the door, earlier than newsstands, and save money… cool. Plus – gain access to all the benefits of the 'Scootering Extra' subs club
40 Show us your scoots – six-page special!
The best of our readers' rides as sent in by you – plus two overseas specials
47 Dealer Profile: AF Rayspeed
When it comes to one scooter dealer in particular, they have done so much over time it's almost impossible to know where to start. Stu Owen gives it a go
53 Kevin's Chronicles
Part 5 of our homage to scooter legend Kev Walsh. In this episode we take a look at rallies, riots and the decision to break away from the mayhem
61 Africa scooter adventure
From Senegal to The Gambia and on to Guinea-Bissau: This is one serious overland adventure
69 Fifty and not out
This year marks a number of landmark anniversaries, some perhaps more widely anticipated than others. Sarge speaks to legendary DJ Dave Evison on his 50 years behind the wheels of steel
72 Club Do's and Events
Your essential guide to the scene What, Where and When
76 Scootering Words and Sounds
The best of Scootering words and music as reviewed by Nik & Sarge
84 DL - Demoniaca Lussuria (Diabolic Lust)
Tuning is a regulatory no-no for many Italians, but there is a breakaway group forging a new path. This scooter encompasses the new breed and their hope for acceptance from the authorities
90 Tech Torque: The Amal
MK 1 and 11 Carburettor One of the most fitted carburettors over the last 50 years is the Amal. Not as popular as it once was, but still used today Stu Owen gives us the full tech specs
94 Eccy thump!
Who would believe we came across a racing outfit sheltered within the confines of a tattoo parlour-come-coffee shop come-tune shop? Well we did, so Rik explains all
106 Match(box) made in heaven
Once a child's toy, but now a highly collectable miniature, thousands of the Matchbox model 36 Lambretta and Watsonian sidecar were produced, although fewer survived playtime! There is, however, only one full-sized machine
112 Camilla's Sei Giorni
When an absolute scooter purist decides to change the origins of his or her machine, you know it must be done both the right reasons and in the right way. Scootering reporter Christian Giarrizzo meets such an enthusiast in the heart of Italy, and tells us his story
117 Scooter Trader
The sales and classifieds section