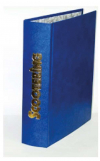 Binder - Scootering
£9.99
(Approx $12.79 or €11.09)
Including
free
UK delivery.
International delivery charges are calculated at checkout.
Share this with a family member or friend?
Click on one of the buttons below:
Scootering Magazine Binder

A seriously re-vamped Scootering binder is finally here!

Our smart blue binder, embellished with Scootering on its spine, holds 12 issues easily and safely.

This binder uses the drawstring holder inside - which holds in magazines without damaging them and is much easier to use then our old binders.