The Best of Scootering 1985-89 by Gary Thomas (Bookazine)
by Gary Thomas
£5.49
(Approx $7.03 or €6.09)
Including
free
UK delivery.
International delivery charges are calculated at checkout.
Share this with a family member or friend?
Click on one of the buttons below:
The Best of Scootering 1985-89

Celebrate the best of the early days of the Scootering magazine, reproducing some of the greatest features, adverts, road tests and letters from the dawn of the magazine and covering the period 1985-1989.

Since starting out in 1985, the title looks at the best scooters on the planet, been to the best events, biggest rallies and featured the best reviews, all of which have helped make it the scene we have and enjoy today.

With old features and adverts hand picked by Gary Thomas, a part of Scootering since 1992, this is the ideal gift and perfect read for all fans.
---
The Best of Scootering 1985-89
By Gary Thomas
Other customers also bought ...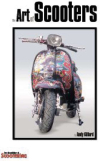 The Art of Scooters by Andy Gillard (Bookazine)
more info
£6.99