Four Minute Mile: The Quest for Sport's Greatest Record by Tim Hartley (Bookazine) - Sir Roger Bannister
by Tim Hartley
£6.99
(Approx $9.58 or €8.25)
Including
free
UK delivery.
International delivery charges are calculated at checkout.
Four Minute Mile: The Quest for Sport's Greatest Record!

The tale of how Sir Roger Bannister trained for and broke the four minute mile.
By Tim Hartley
Six decades ago, on a windswept and overcast evening in Oxford in May 1954, a 25-year-old medical student rewrote the sporting history books and captured the imagination of the world.
Roger Bannister, with the help of his friends Chris Brasher and Chris Chataway, became the first man to run a mile in less than four minutes.
It was the culmination of years of effort from athletes the world over, including such greats as New Zealander Jack Lovelock, the fantastic Finn Paavo Nurmi, and the Swedish duo Gunder Haegg and Arne Andersson. All had tried, and all had failed to break a barrier some said was mental, others claimed was physical.
Bannister held the world mile record for just over a month, yet his achievement became one of the most famous in history. The pure symmetry of the event – four laps in four minutes – was part of its aura.
This publication looks at the history of the distance as a race, some of the great characters, examines Bannister's record effort and the training he endured to get there, and what has happened to the world mile best since.
Book Details

Paperback: 132 pages
Author: Tim Hartley
Publisher: Mortons Media Group Ltd.
Language: English
ISBN: 978-1-909128-40-8
---
Other customers also bought ...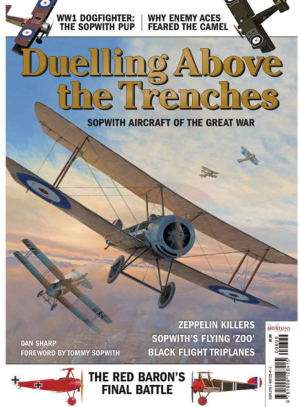 Duelling Above The Trenches: Sopwith Aircraft of The Great War by Dan Sharp (Bookazine)
Books and Bookazines
more info
£6.99
You may also be interested in ...