Scootering - May 2017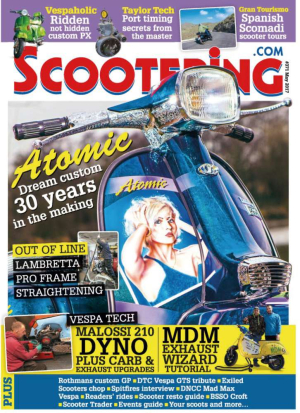 Hover to zoom.
Share this with a family member or friend?
Click on one of the buttons below:
03 Letter from the Editor
A warm welcome to the May issue
of Scootering.

06 Kickstart
The front section with all the latest
news, views and product reviews!

14 Atomic custom scooter
This is what 30 years of planning
waiting and wanting looks like. Gorgeous.

22 Rally report: SWSC Teignmouth
Stan's 600 mile trip for a day out…
worth every yard.

28 Rally report: VFM Southport
Stu is on site for the pre-season
shakedown.

33 Rally report: LNSC ride out
Dan is out on his Vespa to support
the YSA ride out.

36 Show us your scoots
The best of our readers rides as
sent in by you.

44 Letters
Feedback and full throttle
responses from the readers.

47 Dealer spotlight:
Ricambios Motos Clásicas
Stan goes on tour to check out this
Spanish classic scooter dealer.

52 Lady custom scooter
This Rothmans custom is a
perfectly understated street racer.

59 Gran Tourismo
Escorted tours of Southern Spain
by Scomadi – Stan puts the miles in.

67 Vespaholic custom scooter
Nik Skeat takes a look at this
ridden not hidden classic.

73 The Spitfires
Moving on up – the interview
with Simon Wells.

80 Club Do's & Events
Your essential guide to the scene
– What, Where & When!

91 Scootering Words & Sounds
The best of words and music as reviewed
by Nik & Sarge.
95 MDM: The exhaust wizard
Christian Giarrizzo looks into
expansion chamber design by the
Italian masters MDM.

100 Tech Torque
Dan sorts fuelling and exhaust
issues on the Malossi 210 kit.

104 Pure esSEX
Dave O tells us about Exiled
Scooters' latest creation.

111 Tech Torque
Stu Owen brings us the final
part of his Lambretta Restoration Guide.

115 Tech Torque
Darrell Taylor shows us a thing
or two about port timings.

120 Tech Torque
Bent frame? No problem, take a
look at our frame straightening guide.

124 Race anticipation
The Mallory test day for BSSO
pre-season testing offers some insights.

126 Sprint report
The 2017 Straightliners
Championship gets under way.

128 BSSO Croft
Paul Green brings us the
thrills and spills from Croft race track.

131 Scooter Trader
Your sales and classifieds
section – including Specialist Services
& At A Glance.

144 DNCC
Dave O brings us another
classic blast from the past: Mad Max
– Road Warrior Vespa.

146 Reader's Ride
A scooter that's more than Okeh.