Scootering - July 2017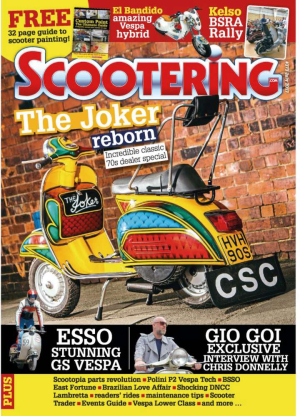 Hover to zoom.
Share this with a family member or friend?
Click on one of the buttons below:
CONTENTS

03 Letter from the Editor
A warm welcome to the July issue
of Scootering.

06 Kickstart
The front section with all the latest
news, views and product reviews!

14 The Joker
One STUNNING old school ride,
drool city.

22 Report: BSRA Kelso
Dan and Fraser bring you all the
action from north o' the border.

28 Report: LCGB Coast-2-Coast
Jordan traverses the country on the
LCGB C2C.

32 Report: Scooter Center Custom Show
A visual feast, brought to us by Christian
Bauer at the SC Custom Show.

37 Dealer spotlight: Scootopia
Stu Owen investigates the manufacturing
revolution going on over at Scootopia.

42 Show us your scoots
The best of our readers' rides as
sent in by you.

44 POB Returns
Gary Chapman takes on a night
shoot to bring out the best of this
fabulous streetracer.

50 Subscriptions
Get one now and get your mag
delivered to your door, earlier than
newsstands, and save money!

52 Spanish Hideaway – Part 2
Stan completes his report from this
Spanish treasure trove.

57 Letters
Feedback and full throttle
responses from the readers.

58 El Bandido
Sarge takes a look at this unusual
Vespa hybrid and its amazing artwork.

64 Retro Rage in San Francisco
Penni Gladstone brings us a view from
across the pond at the scooter clubs and
stores of SF.

69 Gio Goi – the brothers are back!
Rik Bardsley reports on the latest from the
scooter loving Donnelly bros and the latest
with Gio Goi.

74 Lower Class
Want to see how a professional
lensman presents a scooter of this calibre
Well look no further…

80 Club Do's & Events
Your essential guide to the scene
– What, Where & When!

91 Scootering Words & Sounds
The best of words and music as reviewed
by Nik & Sarge.

92 Esso GS
Christian Giarrizzo brings us a
stunning Vespa and its owner, it an
unusual way…

98 Tech Torque
Dan's Vespa Tech series continues
this month with a P2 Polini upgrade.

102 Brazilian Love Affair
Sarge explores the uber-cool
BLA Lambretta in all its old school glory.

108 Tech Torque
Darrell Taylor unleashes the
second part of his clubman dyno series.

115 Tech Torque
Stu Owen gives us this month
essential maintenance tip.

119 BSSO Race Report
Paul Green dissects the racing
events at East Fortune in a blow-by-blow
account

123 Scooter Trader
Your sales and classifieds
section – including Specialist Services
& At A Glance.

136 DNCC
Dave O with another classic
blast from the past – Shocking Stuff.