Scootering - August 2017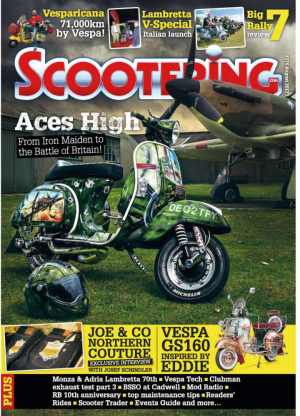 Hover to zoom.
Share this with a family member or friend?
Click on one of the buttons below:
03 Letter from the Editor
A warm welcome to the August issue
of Scootering.

06 Kickstart
The front section with all the latest
news, views and product reviews!

14 Aces High
Is this Gatch's 'finest hour'?
22 Report: Monza Lambretta 70th
All the news and action brought to us
from Italy by our Stan.

28 Report: Lambretta V-Special
Stan gets up-close and personal with the
new Lambretta.

32 Report: Euro-Lambretta
Wee Stevie takes us through
his time on the road, and at, Adria.

39 Report: Big 7
Stu fills us in on the good
time at the Big 7 rally.

46 Mod Radio
Sarge finds out whether video
really did kill the radio star.

48 Subscriptions
Buy one now, get your mag
delivered to the door, earlier than
newsstands, and save money!

51 Mailbox
Readers' letters and feedback.
52 Show us your scoots
The best of our readers' rides as
sent in by you.

55 Vesparicana
Thought your ride to the
Euro-Lambretta or VWD was a long trip?
Get a grip man; THIS is a long trip!

67 Ten years of the RB
Stu Owen reflects on the
performance kit which kick-started
a tuning revolution.

72 Inspired by Eddie
It's always a pleasure to have
a Richie Lunt photographed machine
adorn our pages, this shows why…

79 Northern Couture
What happens when scooters and
fashion collide? Rik finds out.
82 Club Do's & Events
Your essential guide to the scene –
What, Where & When!

93 Scootering Words & Sounds
The best of words and music as reviewed
by Nik & Sarge.

100 Race report: Snetterton
Time attack… something
a little different to the usual race event!

102 Race report: Cadwell
Paul Green dissects the
racing events at East Fortune in a
blow-by-blow back with the BSSO
in the 2017 race series.

109 Tech Torque
Darrell Taylor unleashes
the third part of his much revered
Clubman Dyno series.

115 Tech Torque
Stu Owen gives us this
month's essential maintenance tip.

120 Tech Torque
Dan continues the mighty
Vespa Tech series, this month with
a P2 exhaust upgrade.

123 Scooter Trader
Your sales and classifieds
section – including Specialist Services
& At A Glance.

136 Recycled ace face?
Sharp dressing scooterist Rik
Bardsley looks at 'the old chestnut' to try
and restore harmony to the galaxy.