Scootering - September 2017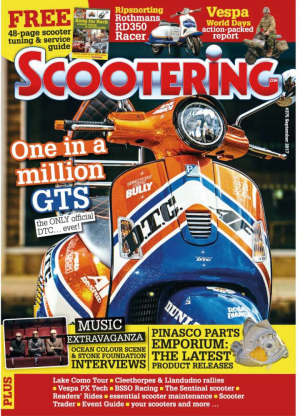 Hover to zoom.
Share this with a family member or friend?
Click on one of the buttons below:
03 Letter from the Editor
A warm welcome to the September
issue of Scootering.

06 Kickstart
The front section with all the latest
news, views and product reviews!

14 Bullseye!
The first, and the last, Maca
DTS GTS.

22 REPORT: Vespa World Days – Celle
Big Stan brings you all the news and
action from Germany.

28 REPORT: British Vespa Days
The controversial 'Thistlegate' event gets
the verdict from Big Stan.

32 REPORT: Cleethorpes Rally
Stu takes us through the highs and lows
of Cleethorpes.

37 REPORT: Llandudno Rally
Jamie fills us in on the wild times
in Wales.

41 Pinasco Parts Emporium
Industry big player Pinasco spills
the beans about its new product range.

44 Lake Como
Big Stan gives us his guide to this
Italian cultural gem.

48 Subscriptions
Buy one now, get your mag
delivered to the door, earlier than
newsstands, and save money!

50 Mailbox
Readers' letters and feedback.
52 Show us your scoots
The best of our readers' rides as
sent in by you.

60 Violator
A show-winning custom Lambretta
90s original.
65
Milan-Taranto:
A Lambretta Rider's Tale
Stu Owen interviews Dave Waddingham
about his epic journeys.

74 The Sentinal
One STUNNING custom Vespa, see
for yourself.

79 Ocean Colour Scene
Frontman Simon Fowler reflects on
the 21st anniversary of the band's Moseley
Shoals album.

82 Club Do's & Events
Your essential guide to the scene
– What, Where & When!

91 Scootering Words & Sounds
The best of words and music as reviewed
by Nik & Sarge.

98 Stone Foundation
The band, their music, and gigging
with Weller… Simon Wells finds out all.

100 Tech Torque:
The epic Vespa Tech series
continues, Stan road tests the PX
modifications to give valuable
reader feedback.

102 YPVS Rothmans Race Lambretta
Ten years on, Gunny finally gets his
RD350-engined Lambretta finished…
well, almost.

107 Tech Torque:
Stu Owen gives us this month's
essential maintenance lesson.

112 Tech Torque:
Darrell Taylor unleashes the
fourth part of his in-depth Clubman Dyno
series.

117 Race Report: Anglesey
Paul Green brings us up to
speed with a fast-paced and action-packed
race report.

120 Death Proof
Sometimes the simple customs
scooters shine through, it's not all about
cheque books.

125 Scooter Trader
Your sales and classifieds
section – including Specialist Services &
at a glance.

129 Pebble and The Boy
Sharp-dressing scooterist Rik
Bardsley takes a behind-the-scenes peek
at this upcoming film.

138 Reader's Ride
The reader's scooter that's
caught our eye this month