Scootering - October 2017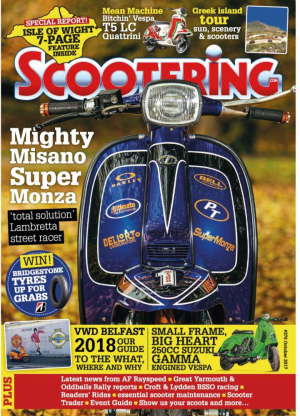 Hover to zoom.
Share this with a family member or friend?
Click on one of the buttons below:
03 Letter from the Editor
A warm welcome to the October
issue of Scootering.

06 Kickstart
The front section with all the latest
news, views and product reviews!

14 Life of Reilly
Superb Quattrini T5 LC custom.
22 REPORT: Isle of Wight Rally
Seven pages of news and photos from the
jewel in the scootering calendar's crown.

32 REPORT: Great Yarmouth Rally
Sarge brings us the best from the broads.

36 REPORT: Oddballs Rally
Good vibrations, mad hatters
and oddballs.

40 Visiting Vespa
Big Stan presents his guide
to visiting the Vespa Museum.

44 GTS Makeover
A focus Scooter Center's rather
sleek GTS upgrades.

47 Mailbox
Readers' letters and feedback.
48 Subscriptions
Buy one now, get your mag
delivered to the door, earlier than
newsstands, and save money!

52 Show us your scoots
The best of our readers rides
as sent in by you.

54 Paperino
A double take on a scooter which
is not all that it first appears.

57 VWD Belfast 2018
Our guide to the when, where
and why for next years big event.

60 The Mighty Misano Monza
A very tidy Super Monza
custom scooter.

66 One owner Lambretta
Stu Owen looks at a man and
machine now 20 years on the road.

70 Ghost & Trick
Michelle Mantle and two of the
machines from her enviable stable
of scooters.
77 Greek Island Tour
Soak up the scooters and the
sun on this Greek Island tour.

82 Club Do's & Events
Your essential guide to the scene
– What, Where & When!

87 Scootering Words & Sounds
The best of words and music as reviewed
by Nik & Sarge.

89 An interview with Tony Briggs
Andy Gray brings us a behind the scenes
look at a photographer with an enduring
passion for scooters and 60s iconography.

94 Testing the boundaries
Not your usual run of the mill
custom scoots, we take a look at two of
the machines from this innovative outfit.

102 Tech Torque
Stu Owen gives us this
month's essential maintenance lesson.

106 Race Report: Lydden Hill
Paul Green brings us up to speed
with a fast-paced and action-packed
race report.

110 Race Report: Time Attack – Croft
A different mix of pistons and petrol from
the Northeast.

114 The future's bright
A father and son team under
the spotlight as they buy, repair and
customise a scooter.

123 Scooter Trader
Your sales and classifieds
section – including Specialist Services
& at a glance.

128 Once an animal, always an animal
Stevie Adair's report from the Animal fae
Naboombu rally.

136 Dave's Nostalgic Custom Corner
Dave Oakley brings us his favourite
historical scooter gems – this time it's
early 90s classic Scraid Na Branach
'Streets of Sorrow'.

138 Reader's Ride
Our favourite reader's
scooter this month.