Scootering - November 2017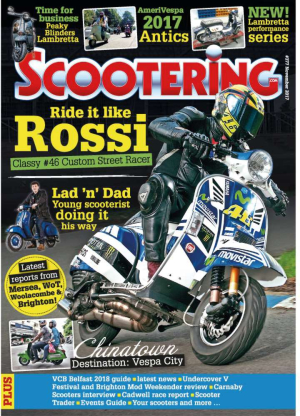 Hover to zoom.
Share this with a family member or friend?
Click on one of the buttons below:
03 Letter from the Editor
A warm welcome to the November
issue of Scootering.

06 Kickstart
The front section with all the latest
news, views and product reviews!

14 Time for business
Meticulous Peaky Blinders-themed
custom scooter – drawing inspiration from
the owner's son.

22 REPORT: Mersea Island Rally
Dave O brings us four page of fun
from Mersea.

27 REPORT: WoT Rally
Stu Smith gets neck deep in the
action at Weston-on-Trent.

33 REPORT: Woolacombe Rally
New girl Serena Chamberlain does
the SWSC National in style.

41 Mailbox
Readers' letters and feedback.
42 Subscriptions
Buy one now, get your mag
delivered to the door, earlier than
newsstands, and save money!

44 Lad 'n' Dad
Has the student now become
the master? Scootering meets
Ben Finlay to find out.

50 Show us your scoots
The best of our readers rides
as sent in by you.

52 Project Lieblingsstück
CTP-built, Pinasco-endorsed
engine in this 'fashionable'
street racer.

56 Chinatown – Destination Vespa City
A pictorial insight into Vespa culture
from a faraway land.

62 VWD Belfast 2018
Stan continues his guide to the
when, where and why for next year's
big event.

65 The Wildest Scooter Racer – Dave Tooley
Stu Owen takes a look back at the
career of former Wildcat-sponsored
racer, Dave Tooley.
69 Dealer Profile
Stan takes a trip to Carnaby
Scooters to investigate their wide choice
of products, services and scooters.

73 Scooter Addicts –AmeriVespa 2017
Penni Gladstone gives us the highs
and lows of her exciting time on
the AmeriVespa ride.

79 Vespa Heaven
It's over a decade since Mauro
Pascoli opened his museum, Stan
takes a trip to see what's new.

82 Club Do's & Events
Your essential guide to the
scene – what, where and when!

88 Undercover V Festival
Sarge goes undercover to report
on this dream event, and brings us a
little extra from Geno Washington.

93 Scootering Words & Sounds
The best of words and music as
reviewed by Nik and Sarge.

94 Brighton Mod Weekender
Not your usual run of the mill
rally, we take a look at this VERY
successful Mod event.

100 Tech Torque: Lambretta Performance review
Stu Owen, one of the UKs most successful
scooter sprinters, starts his new winter
series on Lambretta performance

105 Race Report: Cadwell
Paul Green brings us the season
Grand Finale and all its excitement.

109 Retrospective Allstate
Stan looks at 'Little Red' an
Allstate Vespa lovingly brought to life by
Retrospective Scooters

114 Scooter Trader
Your sales and classifieds
section – including Specialist Services
and At a Glance.

116 Ride it like Rossi
One of the nicest Vespa Street
Racers we've seen in ages, looks good,
rides fast, and wins trophies too!

128 Dave's Nostalgic Custom Corner
This month it's Time, Trouble and Money
– a true classic.