Scootering - December 2017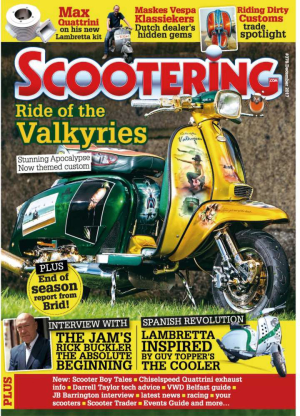 Hover to zoom.
Share this with a family member or friend?
Click on one of the buttons below:
CONTENTS

03 Letter from the Editor
A warm welcome to the December
issue of Scootering.

06 Kickstart
The front section with all the latest
news, views and product reviews!

14 Ride of the Valkyries
Stu Smith enters the heart
of darkness to discover a stunning
Apocalypse Now themed custom scooter.
Just remember… Charlie don't surf.

22 REPORT: Bridlington Rally
The end of the season finale – Stan
brings us his report from Brid seafront.

28 REPORT: Wicksteed
Stu Smith gets up close and
personal with scooter legend Kev Walsh
at his parts fair.

33 Reader's Ride: Racing pedigree
Jason Robinson's Lotus Lambretta – a
tribute to one of Formula 1's most highly
respected drivers – is the focus of this
Man & Machine feature.

41 Mailbox
Readers' letters, laughs, feedback
and fury – get it off your chest man!

42 Subscriptions
Buy one now! Get your mag
delivered to the door, earlier than
newsstands, and save money… cool.

44 Amazing paint
Knocking out some amazing paint
jobs, Scootering meets Rich Coveney to
find out more about the man behind
Riding Dirty Customs.

48 Show us your scoots
The best of our readers' rides
as sent in by you.

50 French Connection
Matt Babbington's left no
stone unturned to finish this lovely
Baldet Deluxe.

55 Bushmills Baby!
Stan continues his guide to the
when, where and why for next year's
VWD in Belfast with a visit to the home
of a famous tipple.

56 Bitchin '57 Wide Frame
Neil Castle's gorgeous 'low light'
Vespa has all the right curves in all the
right places

63 Trade Spotlight: Going Dutch
Never heard of Maskes Vespa Klassiekers?
Check out this super-cool Vespa heaven.

68 The Spanish Revolution
There's too much to say about
this crazy S2 Lambretta… you'd best
just read it for yourself.

74 Interview: Rick Buckler
Andy Gray meets up with Rick
Buckler, who explains how The Jam's
big hit before they were famous nearly
ended in disaster.

79 When the world was young, and so was I
Rik Bardsley meets up with wordsmith
JB Barrington to find out more about
him, his work and his scooter.

83 Club Do's & Events
Your essential guide to the scene
– What, Where & When!

86 Scootering Words & Sounds
The best of words and music as
reviewed by Nik and Sarge.

88 It's an Italian thing:
Quattrini MT-210-TV
Christian Giarrizzo interviews Max
Quattrini on this stunning new kit, while
Stan quizzes Chiselspeed's Martin Cook
about the new exhaust he designed for it.

94 Tech Torque: Tell me about it… stud!
The maestro, Darrell Taylor, is back with
an in-depth feature about studs and their
link to four-point seizures.

100 Tech Torque: Lambretta
performance review Pt 2
Scooter sprinter Stu Owen continues his
new series on Lambretta performance.

115 Scooter Trader
Your sales and classifieds
section – including Specialist Services
and At A Glance.

128 Dave's Nostalgic Custom Corner
This month it's The Genesis Racer (that's
a Yamaha Genesis… not Phil Collins).

130 Reader's Ride
Our favourite reader's scooter
this month. Think you've had it tough?
Check out Steve Gray's positive outlook
and find out what pushes him on.