Scootering - February 2018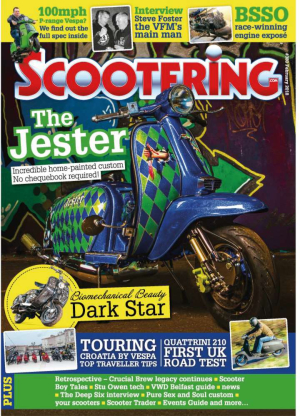 Hover to zoom.
Share this with a family member or friend?
Click on one of the buttons below:
CONTENTS
03 Letter from the Editor
A warm welcome to the February
issue of Scootering.
06 Kickstart
The front section with all the latest
news, views and product reviews!
14 Dark Star
An unusually interesting
biomechanical beauty of a scooter,
blending Lambretta LD, Vespa PX and
some very cool artwork.
22 Quattrini 210 – the Giant Slayer
Looking for a kit which will put a big
smile on the face of 90% of rally going
scooterists? Then look no further.
Scootering were the first in the UK to
road test one of the new kits, and the
results are unequivocal.
31 Ireland's most scenic road?
Wondering about the when, the
where and the why for next year's VWD
in Belfast? Stan's gives another top tip in
his ongoing series.
32 Paisley Sundae
One man's leap of faith in this very
cool band, illustrated beautifully on his
custom sprayed scooter.
68 The Jester
Thought you need a big budget and
a fat chequebook to get on the cover of
Scootering? Think again. Ready to give
anything a try, scooter owner Jep got
stuck in and painted his own machine.
The results speak for themselves.
75 Simply Retro
Roving reporter Stu Smith takes
a trip to see Rob Miller at Simply Retro,
a man currently knocking out some
fantastic work on both standard and
custom scooters.
80 Club Do's & Events
Your essential guide to the scene
– What, Where & When!
84 Scootering Words & Sounds
The best of scootering words and music
as reviewed by Nik & Sarge.
91 Steve Foster – keeping the fire burning
An interview with the main man behind
the legacy that is VFM scooter rallies.
101 Tech Torque:
Lambretta Performance
review – Part 4
Can you translate success on the track to
performance on the road? Stu Owen, one
of the UKs most successful scooter
sprinters, continues his winter series on
Lambretta performance analysis.
107 Tech Torque:
Inside a BSSO race engine
When an accomplished engine builder and
tuner offers you the chance to rip apart
one of his engines and peek inside, you
don't ask questions... you just get on with
it. We look inside a BSSO race engine
from Chalky White at Reply Scooters.
115 Scooter Trader
Your sales and classifieds
section – including Specialist Services & at a glance
128 Dave's Nostalgic Custom Corner
This month it's the soulful classic custom
Pure Sex and Soul which is under Dave
Oakley's nostalgic spotlight.

131 Reader's Ride
Our favourite reader's scooter
this month. A humble Li150, but a
heart-warming story.