Scootering - March 2018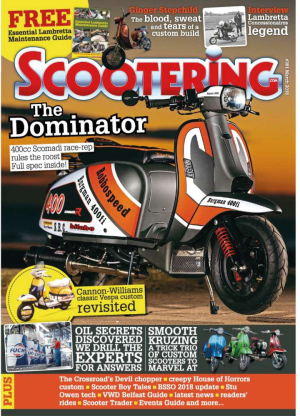 Hover to zoom.
Share this with a family member or friend?
Click on one of the buttons below:
CONTENTS

03 Letter from the Editor
A warm welcome to the March
issue of Scootering.

06 Kickstart
The front section with all the latest
news, views and product reviews!

14 The Midnight Hour
Custom scooter 'Lammy House of
Horror' is the star of this feature, with
artwork by Gatch and the Hammer Horror
films providing a common bond between
artist and owner.

24Show report: Newark 2018
Our man Stan sums up the Winter Classic
show, bringing us the best bits from
Scooter World.

28 All Lubed Up!
Silkolene boffins answer our direct
and frank questions, to bring you the
answers you want to know.

34 Vespa World Days – Game On!
Stan's continues his guide to the finest
spots in Ireland (by scooter) with another
top tip in his ongoing series for the build
up to VWD.

37 Mailbox
Readers' letters, laughs, feedback
and fury – just go ahead and get it off
your chest man!

38 Subscriptions
Buy one now! Get your mag
delivered to the door, earlier than
newsstands, and save money… cool.

40 Show us your scoots
The best of our readers' rides
as sent in by you.

45 Trade Spotlight – Allstyles Scooters
A look behind the scenes at this top
dealer, there's more to them than
meets the eye!

50 Smooth Kruzing
Three cool custom scooters owned
by Jens Kruse, including VSRC, Goodbye,
Nothing to Say, the particularly gorgeous
Pogue Mahone.

58 An Interview with scooter legend Chas DeLacey
Former Lambretta Concessionaires
employee Chas DeLacey fills in a few
historic gaps with Stu Owen.

63 Reader's Ride – Crossroad's
No, not Benny and Miss Diane…
the awesome custom Lambretta chop!

68 Ginger Stepchild
It's always lovely to see a shiny
finished custom scooter on display, but
what about all the hard work which goes
into making it? Our two-part feature on
Ginger Stepchild does just that!

75 Family Affair
Stu Smith completes his miniseries
of 'Dad 'n' Lad' features with a
look at the scootering household of
Kev and Tom Hawkes.

80 Club Do's & Events
Your essential guide to the scene
– What, Where & When!

84 Scootering Words & Sounds
The best of Scootering words and music
as reviewed by Nik & Sarge.

95 Tech Torque:
Lambretta Performance review – Part 5: Aerodynamics
Can you translate success on the track
to performance on the road? Stu Owen,
one of the UK's most successful scooter
sprinters, continues his winter series on
Lambretta performance analysis.

101 BSSO Scooter Racing Update
Paul Green tells us what to expect from
the improved BSSO race series in 2018.

104 Reader's Ride
Submarine engineer Sam Booth
gives us the lowdown on his custom… and
it only cost him £20 to build, honest!

110 Scomadi 400cc – The Dominator
Tired of waiting for elusive 400cc
machines to come to market? Do what
Neil Kent did instead… build your own!

119 Scooter Trader
Your sales and classifieds
section – including Specialist Services
& at a glance.

128 Dave's Nostalgic Custom Corner
Race-rep classic custom Cannon-Williams
under Dave Oakley's nostalgic spotlight.

130 Readers Ride
A 'First Class' scooter with
an X-men themed paint job.