Scootering - April 2018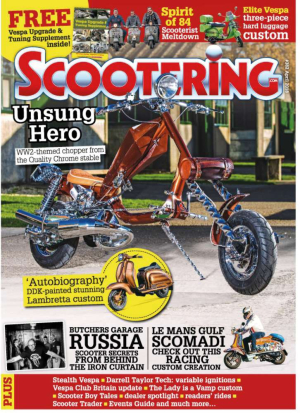 Hover to zoom.
Share this with a family member or friend?
Click on one of the buttons below:
CONTENTS
03 Letter from the Editor
A warm welcome to the April issue
of Scootering.

06 Kickstart
The front section with all the latest
news, views and product reviews!

14Unsung Hero
A beautiful custom chopper
belonging to Keith of Quality Chrome,
with Col at Garage Artwerks providing the
stunning artwork, and backdrop to Keith's
military family history.

23 Scooter Boy Tales
Another story of misdemeanours
and clueless scooter tinkering from the
halcyon days of the 80s.

24Show Report: Kev Walsh Parts Fair
Our man Stu meets up with Kev as
he kicks off the season with his first
of many parts fairs.

28 Show Report: Spirit of 84 Scooterist Meltdown
Jamie Godley gets the miles in to party
and play drums at Meltdown in Germany.

34 Show Report: Burton Brewers #smileforsteve
The lads at Burton Brewers kick off
the season with their renowned annual
event, this year being a tribute to a
legend – Steve Haynes.

39 Mailbox
Readers' letters, laughs, feedback
and fury – get it off your chest man!

40 Subscriptions
Buy one now! Get your mag
delivered to the door, earlier than
newsstands, and save money… cool.

42 Show us your scoots
The best of our readers rides
as sent in by you.

45 Trade Spotlight: Scooter Specialist
Stan continues his guide to the best bits
of Ireland (by scooter) with another top
tip in the build up to VWD – this time
combining a visit to Scooter Specialist NI.

50 Ginger Stepchild: Part 2
Having taken an up-close look
at the blood, sweat an tears which went
into building the custom scooter 'Ginger
Stepchild', we now sit back, relax, and
enjoy the finished product.


57Interview with Bernard Lawler
A closer look at veteran scooterist
Bernard Lawler, his achievements,
his scooter, and his awards.

62 Gulf Scomadi
It's a favourite film, actor and
paints scheme for many... and this Le
Mans based Scomadi looks every inch
the race thoroughbred in this livery.

70 Reader's Ride – Ramie's 'Elite' Vespa
It's not often you see a custom Vespa with
an Elite three-piece hard luggage set, so
take a good look, it'll be a long time until
you see another one!

74Butchers Garage Russia
Chops, tunes, music, fashion and
scooters… you won't find this garage on
any tourist map!

80 Club Do's & Events
Your essential guide to the scene
– What, Where & When!

84Scootering Words & Sounds
The best of scootering words and
music as reviewed by Nik & Sarge.

88 Tech Torque:
Hermes CDI on test
Darrell Taylor looks into the pros and
cons of variable ignition gadgets.

93Tech Torque: Lambretta
performance review – the final chapter
Can you translate success on the track
to performance on the road? Stu Owen,
one of the UK's most successful scooter
sprinters, closes his winter series on
Lambretta performance analysis with
some stunning stats.

97 Tech Torque: Essential
scooter repairs with Stu Owen
No need to chew up your sprocket
components in fitting; Stu explains all.

99 Subs Club!
Not a subscriber? You'll wish you
were now, with our new club making it
just too juicy and fruitful to resist.
Check out the details on page 99.

101 Aword from the VCB
The introductory piece from the
VCB, as part of our new and ongoing
Vespa Club updates.

104 Black Widow
Italian stallion Christian
Giarrizzo looks at this very understated
stealth machine and investigates its
hidden charms.

110 Autobiography S2
This DDK painted scooter is
pristine and very much ridden. Take a look
at this curvaceous beauty in all its glory.

120 Scooter Trader
Your sales and classifieds
section – including Specialist Services
& At A Glance.

128 Dave's Nostalgic Custom Corner
– the 50th edition
It's Dave O's 50th 'anniversary' for custom
corner and he come up trumps with this
nostalgic classic…The Lady is a Vamp.

130 Reader's Ride
Our favourite reader's scooter
this month, something different and
unusual… that's for sure.