Scootering - May 2018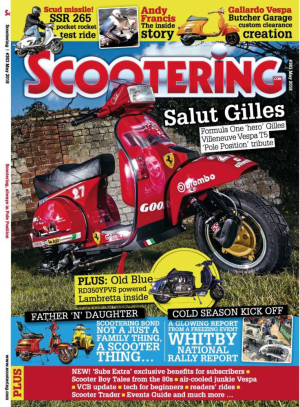 Hover to zoom.
Share this with a family member or friend?
Click on one of the buttons below:
CONTENTS

03 Letter from the Editor
A warm welcome to the May issue
of Scootering.

06 Kickstart
The upfront section with all the
latest news, views and product reviews!

14 Rossa revisited
The epitome of 80s super-cool,
the RD350YPVS engine, shoehorned
into this craftily engineered Lambretta
chassis – Old Blue.

24 Show Report: Wet-by
Did we mention it was cold?
Whitby kicks off the first National, and
despite the inclement weather, it was
a great start to the season.

29 Show Report: VMSC Extravaganza
Stu Smith has a ride out to bring us
the latest from the VMSC at their
flagship event.

33 Show Report: Kev Walsh Parts Fair
We meet up with Kev as he battles with
the logistics of the weather at Wicksteed.

38 Mailbox
Readers' letters, laughs, feedback
and fury – get it off your chest man!

40 Subscriptions
Get your mag delivered to the
door, earlier than newsstands, and save
money… cool. Plus – gain access to all
the benefits of the NEW 'Scootering Extra'
subs-club.

42 Show Us Your Scoots
The best of our readers' rides
as sent in by you.

44 Gallardo Vespa
Rik travels to Russia and meets up
with our pals at Butchers Garage, to
marvel at this wondrous customs
clearance creation.

51 Test Ride: Scud Missile SSR 265
We send Captain Slow (Stan) to test ride
the new SSR 265 built by JB Tuning.
He's not a pocket rocket fan by nature,
so how will he fare on this veritable
missile of a scooter?

56 Air-Cooled Junkie
That annoying Frog – the ring tone,
not Macron – put into paint on this
custom Vespa. Not just cool, air-cool.

136 A lasting impression
Having just completed his 'father
'n' son' scooterist trilogy, Stu was delighted
to discover this father 'n' daughter story…

70 Precious Metal
There's a number of ways to clean
off years of road grime and thanks to BAW
Coatings, Scootering magazine can now
offer another – powdered gemstones.

74 Dealer Focus: Supertune
Supertune is in new hands again,
so Stan reports on what's planned for one
of British scootering's iconic brands…

79 Reader's Ride
Stu revisits this classic custom
chopper, Dream Warrior, to find out what
updates have been carried out since our
last look.

89 Club Do's & Events
Your essential guide to the scene
– What, Where & When!

93 Scootering Words & Sounds
The best of Scootering words and music
as reviewed by Nik & Sarge.

95 Uncontrollable Soul
Love conquers all, or so they say,
but especially when it's accompanied by
the gift of a GT200.

99 Loyal to the Lambretta
One of the scene's more colourful,
and active, characters is the well-known
Andy Francis. We catch up with him as
he tells his story.

99 Tech Torque:
Essential scooter repairs with Stu Owen
No need to chew up your sprocket
components in fitting, Stu explains all.

104 SUBS CLUB!
Not a subscriber? You'll wish
you were now, with our new club making it
just too juicy and fruitful to resist. Check
out the advert on page 104.

105 A word from the VCB
The history of cogs from the
VCB, as part of our new and ongoing
Vespa Club updates.

109 BSSO Pre-season shakedown
Paul Green checks out the pre-season test
days, and brings us the team scoops to be
expected for the 2018 race season.

113 Tech Torque: Common
mistakes and how to avoid them
Lambretta guru, Stu Owen, shows us
some of the more common maintenance
mistakes, and tells us how we can avoid
them like the plague.

118 Pole Position
When Mark Mitchell decided to
create a tribute to his Formula One hero
Gilles Villeneuve there was only one
choice of machine, Piaggio's Vespa T5.

127 Scooter Trader
All the sales and classifieds.

136 Dave's Nostalgic Custom Corner
Nostalgia master Dave Oakley pulls out
another stunning blast from the past
– this month it's Diamond Dogs.

138 Reader's Ride
Our favourite road ridden scooter
this month – it's always something special.