Scootering - June 2018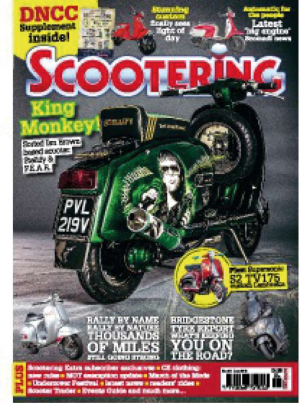 Hover to zoom.
Share this with a family member or friend?
Click on one of the buttons below:
CONTENTS

03 Welcome letter from the Editor
A warm welcome to the June issue of
Scootering.

06 Kickstart
The upfront section with all the
latest news, views and product reviews!

14 Stellify & F.E.A.R.
Not the first time we have seen
a Stone Roses based custom scooter,
but this is probably one of the best.
A stunning job.

24 Show Report: GCC Custom Show
The GCC Custom show is now in its fourth
year and it's attracting a great amount
of interest. It's easy to see why...

28 True Blue
Ramie Stewart 'peacock struts'
this beautiful pair of Vespas – an SS90
and an SS180 – in all their glory.

32 Subscriptions
Get your mag delivered to the
door, earlier than newsstands, and save
money… cool. Plus – gain access to all
the benefits of the exclusive NEW
'Scootering Extra' subs-club.

34 Test Ride: Scomadi Update
Team SC ventures out to see Frank
Sanderson at Scomadi HQ and find out
the latest news, developments and
updates on the Scomadi range.

38 Mailbox
Readers' letters, laughs, feedback
and fury – get it off your chest man!

40 Show Us Your Scoots
The best of our readers' rides
as sent in by you.

43 Dealer Profile: JB Tuning
Classic Scooter Shop
So much more than just fast. Stan finds
out what's behind the moniker update
over at JB.

48 Toxic 7 by Gatch
The latest radical, diverse, and
possibly a new sub-culture to the
scootering scene?

55 Fat Boy 3
How will team Fat Boy 3 fare when
they try their hand at off-road enduro
racing… on a Vega. Sarge finds out.

61 One owner hall of fame
After a previous article about 'one
owner' scooters we were inundated with
similar stories, which spurred us on to
put the best of the best together in a
hall of fame.

66 Supersonic
Legendary lensman Richie Lunt
shoots this supercool TV175 S2 custom
scooter belonging to Jamie Byrne and tells
us the story behind man and machine.

72 Product Review – Bridgestone tyres
It's dirty job but someone has to do it.
Stan reports from Portugal, where
Bridgestone unveiled their latest
generation of Battlax scooter tyre.

77 March of the Mods
From an idea back in 2012, the
annual March of the Mods has exploded
to the National series of events that it is
today. Sarge reports.

80 Club Do's & Events
Your essential guide to the scene
– What, Where & When!

85 Scootering Words & Sounds
The best of scootering words and music
as reviewed by Nik & Sarge.

90 Undercover Festival
Nik spends the weekend in
Margate, at the Undercover punk festival.

95 Little Bitch
Not all scooters have an
adventurous life, fortunately this
'Little Bitch' has more than lived up
to Piaggio's expectations.

98 BSSO Report
All the action from the seasons #1
scooter race meet at Mallory brought to us
by Paul Green.

101Tech Torque:
Essential scooter maintenance
with Stu Owen
Engine mounts, those rather innocuous
items can make a world of difference
to your ride – Stu explains all.

106 Run baby, run…
Is owning a second-hand
custom scooter a crime? Some people
think so, but not us… we just love cool
shit. And this scooter is cool, very.

119 Scooter Trader
All the sales and
classifieds section.

128 Dave's Nostalgic Custom Corner
Nostalgia master Dave Oakley pulls
out another stunning blast from the past
– this month it's The Fury.

130 Reader's Ride
Our favourite road ridden
scooter this month, it's always something
a little bit special.