Scootering - July 2018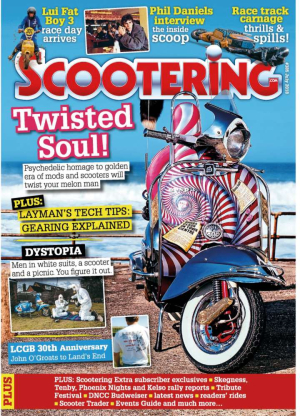 Hover to zoom.
Share this with a family member or friend?
Click on one of the buttons below:
CONTENTS
03 Welcome letter from the Editor
A warm welcome to the July issue of
Scootering.

06 Kickstart
The upfront section with all the
latest news, views and product reviews!

14 Twisted Soul
An almost psychedelia-induced
tribute to the late 70s Mod revival,
and the ensuing rally era of the 80s.
A reflection of time, captured in paint.

24 Rally Report: Skegness
Starting from humble beginnings
as a 'winter warmer', and now in its ninth
year, it's 'back to basics' at Skeggy!

28 Show Report: Cologne Custom Show
Not just another custom show, the guys
at SC in Cologne do things differently,
and it's pretty cool.

32 Rally Report: Tenby
All roads led to Tenby during
the glorious sunshine of the May Bank
Holiday, which made this wicked
weekend event all the more glorious.

36 Rally Report: Phoenix Nights
Leicester Phoenix SC hosted their 13th
Phoenix Nights do at Hinckley Rugby Club
and what a superb weekend it was…

40 Rally Report: Kelso
The big one North o' the border!
Kelso… not to be missed, but most
definitely to be repeated!

40 Show Us Your Scoots
The best of our readers' rides this
month as sent in by you.

47 Mailbox
Readers' letters, laughs, feedback
and fury – get it off your chest man!

48 Subscriptions
Get your mag delivered to the
door, earlier than newsstands, and save
money… cool. Plus: gain access to all
the benefits of the NEW 'Scootering Extra'
subs-club.

50 Dystopia
We've seen some reasonably
unusual things here at Scootering,
but Dystopia, and its accompanying
photoshoot set a new standard.
Brace yourselves!

57 Fat Boy 3 – part 2
Having readied their Vega-based
racer for action, Team Fat Boy 3 go
off-road... Sarge tells us what happened.

63 LCGB John O'Groats to Lands End 30th
Thirty years ago the LCGB embarked
on a trip from one end of the country
to the other, uniting the members like
never before…

69 The Midgley Scooter Collective
As a teenager in 1966, Paul Midgley
used to gaze in awe at the newly released
Lambretta SX200 – dreaming that one day
he would own one…

74 The Meteors
Paul Reeson's T5 cutdown-chopper
has been picking up a steady stream of
awards at custom shows. We find out
the secrets of Paul's success.

81 An interview with Phil Daniels
With talk of film sequels, and news of
Phil's new scooter, we decided to have
a catch-up with the man himself.

84 Club Do's & Events
Your essential guide to the scene
– What, Where & When!

90 Scootering Words & Sounds
The best of scootering words and
music as reviewed by Nik & Sarge.

92 A labour of love
Tribute Festival is not strictly a
scooter event but it was well attended
by our fraternity.

95 VCB Club page
Russ Machin brings us the latest
news in the official VCB newsfeed.

97 Rebel Threads
We interview a man who has
dressed many film and countless music
video stars, Roger Burton.

100 BSSO Report – Cadwell Carnage
The BSSO grids joined forces with the
Time Attack organisation as part of the car
event Modified Live at Cadwell.

103 BSSO Report – Darley Moor
The next round of adrenaline pumping
racing ensues at Darley Moor: Paul Green
brings us the highlights of the event.
107 Tech Torque:
Essential scooter maintenance with Stu Owen
The Lambretta gearbox doesn't have to be
all that complicated. Stu Owen explains.

112 Infinite Thrill
Tim Lovell's glorious tribute to
his 1980s rally steed 'Pretty Green'.

122 Scooter Trader
All the sales and classifieds.

128 Dave's Nostalgic Custom Corner
Nostalgia master Dave Oakley pulls out
another stunning blast from the past
– this month it's Budweiser.

130 Reader's Ride
Our favourite road ridden
scooter this month, it's always
something special.