Scootering - September 2018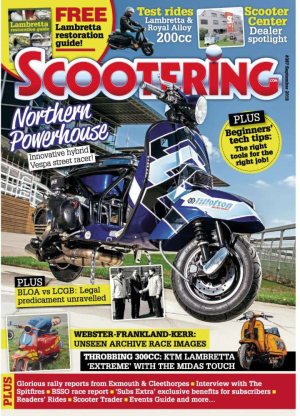 Hover to zoom.
Share this with a family member or friend?
Click on one of the buttons below:
Welcome letter from the Editor
A warm welcome to the September issue of Scootering.
Kickstart
The upfront section with all the latest news, views and product reviews!
Northern Powerhouse
Carved up, tuned up, and painted up... this street racer Vespa lives up to it's name as a true Northern
Powerhouse.
Rally Report: Cleethorpes
Scooters buzzing, sun scorching, beer flowing. Twenty years of experience hosting this rally has
culminated in a cracking event.
Rally Report: Exmouth
Big Stan endures the elements to bring us the very best of the best from Exmouth.
Extreme
This throbbing 300cc KTM engine conversion is a finely engineered and crafted bit of kit, and has
that special Midas Touch.
Mailbox
Readers' letters, laughs, feedback and fury- get it off your chest man!
Show us your scoots
The best of our readers' rides as sent in by you.
Subscriptions
Get your mag delivered to the door, earlier than newsstands, and
save money... cool. Plus- gain access
to all the benefits of the NEW
'Scootering Extra' subs-club.
BLOA vs LCGB
This club-based legal quagmire has been dragging on for some time now. Amid the confusion, Stu Owen
steps forward to unravel the details.
Dealer Focus
Big Stan visits those lovely people at SCK to see what's going on and find
out what's new.
A V-Special day out
Big Stan test-rides the most talked about arrivals of 2018: the Royal Alloy
and Lambretta V-Special.

Cali-Cuppa-Bretta
Penni Gladstone interviews
ex-racer John Quintos about his three scooter-based cafes, and his historic racing connections.
Club Do's &: Events
Your essential guide to the scene
- What, Where & When!
Scootering Words & Sounds
The best of scootering words and music as reviewed by Nik & Sarge.
VCB Club page
Russ Machin brings us the latest news in the official VCB newsfeed.
BSSO Race Report­ Anglesey
Another action-packed race report from our scooter racing guru Paul Green, time for Round 5 at
Anglesey.

Tech Torque: Essential
Scooter maintenance with Stu Owen
The right tools for the right job - do it properly, Stu Owen explains how and why.
An Interview with...
Sarge tracks down The Spitfires' lead singer and guitarist Billy Sullivan for
a quick word.
Kaonashi
A 'faceless' Vespa with its own unique character from the distinguished stable of Butcher Garage.
Crackley Racer
Long-time Scootering lens-man
Richie Lunt shoots this Mod-based vintage racer, a machine which stands out for all the right
reasons.
Scooter Trader
All the sales and classifieds for you to peruse.
Dave's Nostalgic Custom Corner
Nostalgia master Dave Oakley pulls out another stunning blast from the past
-this month it's the classic Jerusalem.

Reader's Ride
Our favourite road ridden
Scooter this month, this time it's the spirit of scootering that's in the spotlight.