Scootering - November 2018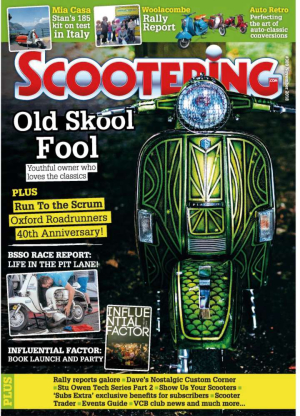 Hover to zoom.
Share this with a family member or friend?
Click on one of the buttons below:
CONTENT

03 Welcome letter from the Editor
A warm welcome to the November issue
of Scootering.
06 Kickstart
The upfront section with all the
latest news, views and product reviews!
14 Old Skool Fool
Aaron Williams delivers a
remarkable blend of youthful energy
and 80s cool with an 'Old Skool'
classic custom Vespa.
25 Rally Report: Woolacombe
Serena braves the wind and rain,
before donning her best disco gear and
submerging herself in the 70s feel of this
year's Woolacombe rally!
33 Rally Report: Mersea Island
It's been 25 years since Dave O first
arrived at this legendary rally, and he loves
it as much today as he did then. Read his
report and you'll understand why!
38 Rally Report: WoT
Gatecrashers and Skegby SC
hosted their seventh annual Weston-on-
Trent rally this year. Our reporter Stu
Smith was there.
43 Mailbox
Readers' letters, laughs, feedback
and fury – get it off your chest man! This
month we indulge readers who have sent
in pics of themselves with the mag.
44 Show us your scoots
The best of our readers rides as
sent in by you.
48 Subscriptions
Get your mag delivered to the
door, earlier than newsstands, and save
money… cool. Plus – gain access to
the NEW 'Scootering Extra' subs-club.
50 Auto Retro
Neil Heppenstall has refined the
art of auto-conversions, take a look at
these stunners and you may even find
inspiration to embrace the concept!
58 Rally Report: Oxford Road Runners 40th
Oxford Roadrunners went for a back to
basics no-frills gathering, reminiscent of
events during the early 80s to mark their
ruby anniversary rally. Sarge tells all…
63 Mia Casa…
Stan's Casa 185 kit's now covered
5000 miles and visited nine countries.
This month he presents Scootering's
longest road test to date.
68 The Kids Are Alright: Brighton Mod Weekender
Possibly one of, if not the, largest
gatherings of scooters anywhere on
mainland Britain has been in Brighton…
75 Readers Ride: Pick 'n' Mix
Piaggio or Innocenti? We're often
accused of bias but fortunately Steve
Apsey's auto conversion ticks both boxes.
79 The Influential Factor
Sarge reviews the reworked version
of this classic book, and joins in the fun
at the pre-launch party.
82 Club Do's & Events
Your essential guide to the scene
– What, Where & When!
88 Scootering Words & Sounds
The best of scootering words and
music as reviewed by Nik & Sarge.
91 VCB Club page
Russ Machin brings us the latest
news in the official VCB newsfeed.
93 Rally Report: Retford Slackers
It's big, it's bad, and it's back. Nik gets
down n' dirty at the Slackers SC rally.
98 BSSO Time Attack: Snetterton
The latest round of the BSSO series, plus
the Time Attack event, brings a fascinating
range of vehicles for petrol-heads to see
– from Lambrettas to vintage F1 cars!
103 Tech Torque: Building a Street Racer
Stu Owen bring us Part 2 of his winter
tech series – his guide to building a
Lambertta or Vespa Street Racer.
113 Scooter Trader
The sales and classifieds section
for you to peruse.
120 Dave's Nostalgic Custom Corner
Nostalgia master Dave Oakley pulls out
another stunning blast from the past – this
month it's the classic Rubble Without a
Cause… aka Bedrock.