Scootering - January 2019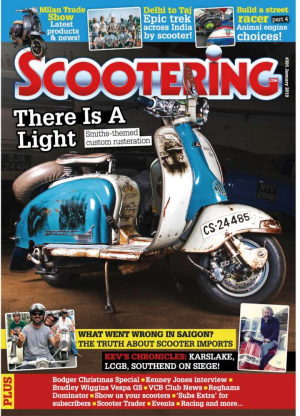 Hover to zoom.
Share this with a family member or friend?
Click on one of the buttons below:
CONTENT

03 Welcome letter from the Editor
A warm welcome to the January issue of Scootering
06 Kickstart
The upfront section with all the latest news, views and product reviews!
14 Street Sleeper of Desire
Sarge takes a look at this beautiful Targa-Twin street sleeper built by Surrey Scooter services… it's one sweet ride.
23 Trade Show Report: EICMA
It's Europe's biggest and best trade show, and we were there to find out the latest news on 2019's upcoming scooters and products.
30 Arthur's Artful GS
The beautiful revamped and resurrected GS of Arthur Lewis, realising his lifetime dream to build this beast.
37 What's wrong in Saigon?
Do NOT miss this. If you've EVER been tempted to buy a scooter from Vietnam, THIS is the article you need to read first. Stan travelled to the Far East to uncover the truth and this is his report….
43 Mailbox
Readers' letters, laughs, feedback and fury – get if off your chest man!
44 Show us your scoots
The best of our readers rides as sent in by you.
51 Kevin's Chronicles
Part 1 of our homage to scooter legend Kev Walsh. This episode investigates the Southend troubles, and what it meant for the scooter scene.
56 Regham's Dominator
Once you've seen one of those 'must have' scooters, the desire never leaves you, no matter how long ago it might have been….
62 Bodger Christmas special
The main man is back, full of mulled wine and mince pies, and ready to dish out his festive scootering cheer to one and all.
64 Reader's Ride: Caddy Vespa
As they say… it takes all sorts! This is one of those weird n' funky scooters which makes you say- why? And as ever, the answer is: because I can! Enjoy.
70 Ogdens' Nut Gone Flakes
An interview with the legendary Kenny Jones to mark the 50th anniversary re-release of the small Faces' Ogdens' Nut Gone Flake album.
76 Scootering Words & Sounds
The best of scootering words and music as reviewed by Nik and Sarge
79 VCB Club page
Russ Machin brings us the latest news in the official VCB newsfeed.
81 Tech Torque: Building a Lambretta or Vespa Street Racer
Stu Owen brings us part 4 of his winter tech series, his guide to building a Lambretta and Vespa Street Racer
86 Making history: The Cannonball J-range
It's not the most loved scooter out there, but this J-range packs a punch and has, along with its rider, earned its place in the history book.
88 Dealer's Ride special
Pat from SSC shows us the best of his personal collection, the ones on the 'not for sale' list
92 Project Street Sleeper
Dan's now project, no fancy paintjobs, just discreet pocket rocket. Last month we found a decent chassis, this month we make the engine choice.
102 Rally Report
Dave O brings us his closing view of the season from the Haven resort in Mablethrope.
104 Crazy 88 SC- Delhi to Taj!
A bunch of scooterists, a few bottles of whisky, and the intent to plan an epic trip… what could possibly go wrong?
108 There Is a Light
They don't all have to be million-dollar bling-bling machines. This scooter is low-key, but it's a beautiful ride.
113 Scooter Trader
The sales and classifieds section
120 A knight's steed: Sir Brad's GS
You've already seen Brad Wiggins' Lambretta here before, but have you seen his new Vespa?