Scootering - June 2019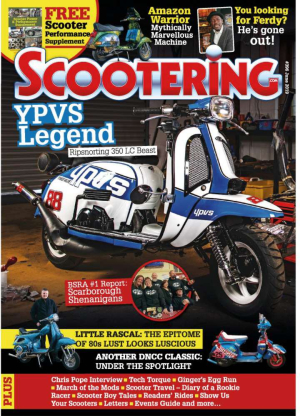 Hover to zoom.
Share this with a family member or friend?
Click on one of the buttons below:
CONTENTS
03 Welcome letter from the Editor
A warm welcome to the June edition of Scootering
06 Kickstart
The upfront section with all the latest news, views and product reviews!
14 Feature Scooter: Yambretta
There is no other engine, in our humble opinion, which has been slotted into a classic scooter and sounds better than the Yamaha 350 YPVS. A true rip snorter
22 Rally Review: Scarborough
The first National of the season, Time to blast the cobwebs off the scooters, and meet 'n' greet the faces and places we've missed over winter.
28 Feature Scooters: Little Dragon & Green Hornet
A positively stunning brace of scooters, dedicated to the master of Wing Chun and Jeet Kune Do… Bruce Lee.
34 Scooter Boy Tales
Another cracking Scooter Boy story from the annals of Scootering history
37 Mailbox
Readers' letters, laughs, feedback and fury – get it off your chest, man!
38 Subscriptions
Get your mag delivered to the door, earlier than newsstands, and save money… cool. Plus, gain access to all the benefits of the 'Scootering Extra' subs-club.
40 Show us your scoots –four-page special
The best of our readers' rides as sent in by you.
47 Dealer Profile: Wessex Scooters
The Vespa wide frame is a mystery to most British riders, but as Stan discovered, Wessex Scooters are determined to bring it out of the shadows.
52 Rally Report: VMSC extravaganza 2019
The VMSC event is always one to look forward to. A vibrant, exciting and rewarding day for everyone!
56 Kevin's Chronicles
Part 6 of our homage to scooter legend Kev Walsh. In this episode we take a look at, apparently, the ideal way to forget all the stress of running a major scooter organisation… and that's to join another one!
60 Feature Scooter: Keeping it in the family
When Mark Broadhurst's business hit hard times, he was doing his best to keep things going and not lose the lot. And that's where the story of this scooter starts…
72 Club Do's & Events
Your essential guide to the scene – What, Where & When!
77 Scootering Words & Sounds
The best of Scootering words and music as reviewed by Nik & Sarge
84 Kintsugi: Strength and beauty in imperfection
An otherwise innocuous image, framing a scooter snapshot in time, sparked the interest of travelling scooter journalist Christian Giarrizzo, prompting him on a journey to track down the owner and scooters.
94 Tech Torque: Exhaustive issues
The traditional Lambretta exhaust system can be problematic at the best of times. In fact, just keeping it bolted to the engine can be a real challenge! Stu explains all.
106 Feature Scooter: Little Rascal
Little Rascal caused a stir when it first appeared on the scene in the 80s. It's a scooter which has a special place in a lot of people's hearts and she's looking better than ever. A ground-breaking scooter and possibly the first of its kind
112 Basilicata
Travelling scooter journalist Christian Giarrizzo takes us on an off-the-beaten-track guide to lesser-known places, each with their own undiscovered and unique charm.
117 Scooter Trader
The sales and classifieds section
120 Dave's Nostalgic Custom Corner
This month's trip down memory lane from DNCC is the stunning Somekind of Wonderful.